Show instead of tell
When asking for support it is essential to be able to create and provide screenshots and screencasts to the party that you seek support from. It saves both sides an enormous amount of time and will get you a faster answer every time. Here are two tips to help you get a faster reply from any support you are working with:
Tipp 1 -For each "where?" provide an URL and screenshot:
Every support request starts with an initial location and then hops on to multiple locations (cart page, checkout and so on). Whenever you find yourself describing where something is instead of providing an URL and a screenshot, you are prolonging the process. Mind you that goes for both sides, any support agent may do the same thing. In my years of support I can guarantee you this: trying to figure out the location of an element or describing it can be a lengthy process.
For each "
where?"
provide an URL and screenshot instead.
I use Cloudup. Pick any tool you like, but only pick one that uploads the screenshot for you and provides you with an instant shareable link to share your screenshot.
You
must indicate in a screenshot to what you are referring
. Add arrows and highlights to what you are talking about. I use
XPress for Chrome
to do so.
Tipp 2 – For each "what and how?" – create a quick screencast.
In WooCommerce (and really every form of support) we can only help you if you teach us how to trigger the same issue you are experiencing. If we cannot reproduce the issue on our end, there is no solution process.
Instead of describing
what
it is you do
how
that triggers the issue, show it by using a screencast.
It is so much quicker, every time.
I use Licecap and RecordIt for daily usage. Licecap must be uploaded and inserted manually. All the animated GIFs you see on my blog are created using this neat little application. RecordIt uploads automatically and provides you with a shareable link. Occasionally I need to edit my screencasts because of their duration and complexity. For this I use Screencast-O-Matic.
Tipp 3: Hosting created screenshots or screencasts
via ZenDesk
GIF
via WordPress Media Library
If that does not work for you, your own WordPress can also host your file. Upload your files via the Media Library and send the direct link along.
via free image hosting services: 
There are some services that allow you to host an image for free. However these services make it difficult for me to reach the screenshot because they are crammed with ads. They are:
For example this is how Tinypic looks when trying to view a screenshot: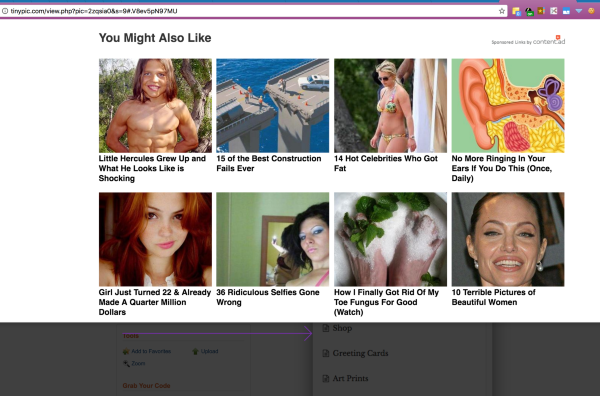 Only by closing the very obtrusive ad layer can I start and try to find the screenshot, which is surrounded by ads still. ?