Every support case is the same, but different.
In an attempt to empower every one to be a little better when it comes to troubleshooting their WordPress / WooCommerce site: Here is a flow chart that displays the steps I take in many (not all) support tickets, when doing WooCommerce support.
Click on the button below the image to download a PDF version.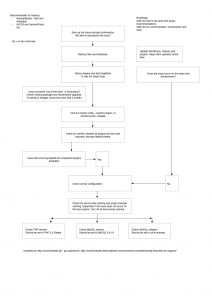 Download
This flow chart is super beta and will be developed further by me.
Check back frequently or subscribe on the right via email to receive updates.
I hope you find it helpful.
Current version: 1.1